An artist may refuse to speak to another person in extreme instances and on very stressful days. If you have a dog as a buddy, you can at least show your artistic ability on their faces or fur to uplift your mood. They're the friendliest creatures, making you feel like a kid and allowing you to do all sorts of fun things with them, including drawing on them.
But, is acrylic paint bad for dogs?
Well, acrylic paint is harmful to your dog only if it is consumed in large quantities. Although, the paint has the potential to flip a dog's stomach inside out and induce a brief but painful attack of diarrhea.
However, your dog should be able to recoup from such an incident. Some dogs (especially puppies) appear to devour anything. 
Pica is a known medical disorder in dogs that occurs when a dog eats non-food items repeatedly. As a result, it's logical that dogs would eat acrylic paint, if found anywhere near them, which could be harmful to their health. Here, we'll discuss "Is acrylic paint bad for dogs?" so you can better safeguard your pets if required.
---
Is acrylic paint non-toxic?
Is acrylic paint toxic or not? As well, they are generally water-based, which means they contain no hazardous chemicals. As a result, they are less harmful than many oil-based colors. These acrylics are also quite easy to wash, requiring only water and soap to remove.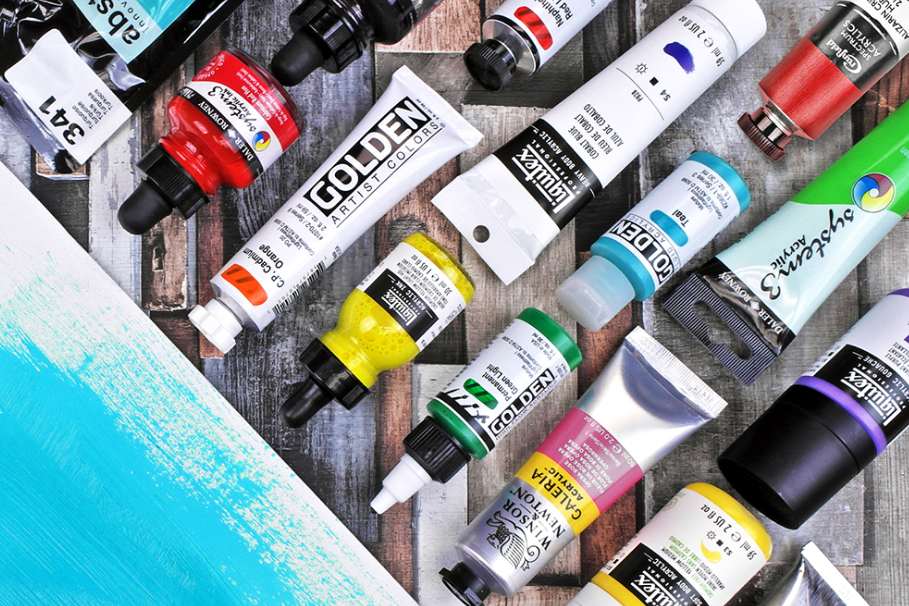 However, hazardous chemicals such as lead, cobalt, chromium, manganese, and cadmium may still be present in these paints. When measures are not taken, these agents can cause some negative effects. Make certain that the paint is applied in a well-ventilated area. Because they emit dust and tiny particles when used for airbrushing, they might become poisonous.
The ingredients are frequently listed on the label of paints that contain dangerous compounds. Carefully check the ingredients before purchasing acrylic paint.
Is acrylic paint bad for dogs?
Although most painters' paints, such as water based acrylic paints are non-toxic. Some shades may include chemicals that are dangerous to pets. When consumed, paint agents, such as turpentine, can irritate the mucosal surfaces or skin. If dogs eat some paint, contact the nearest veterinarian or the APCC straight away. 
Although acrylic paint is non-hazardous and may be suitable for use, it is not suggested for applying to the dog's skin, much less on the face. A skin coat is simple to remove; simply wash the skin with water, whereas acrylics must be peeled off like a covering. 
If you're concerned that your dog has eaten a substantial amount of acrylic paint, the biggest hazard is that they've ingested the bits of plastic in which the acrylic is packaged. Because plastic is not digestible for dogs, The best you can pray for your dog is that the paint tube "goes through" your dog's throat or intestine without being trapped.
Is acrylic paint bad for dogs' paws?
Pet paw imprints can be painted using waterproof acrylic paint or tempera paint suited for young kids. The acrylics are non-toxic because they are designed for kids to apply directly to their skin. Wash the paws off for a few moments before the job gets done.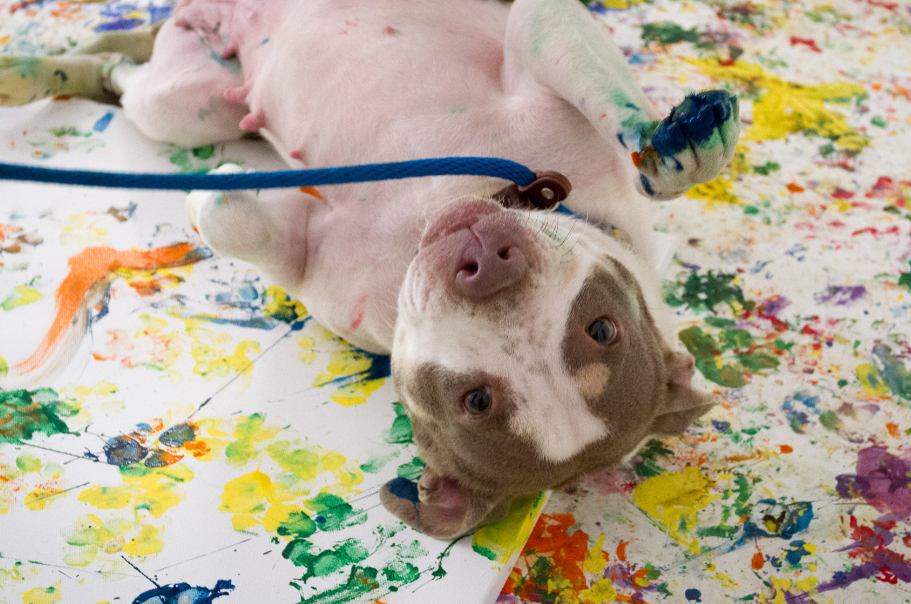 Before you begin painting your dog's paws with acrylic paint, you must first ensure that they are okay with it. If they don't appreciate having their paws handled, painting them might not be the best idea.
Removable skin paints or washable colors are suitable and effective, and they won't break the bank. A non-toxic water-based color, like tempera, is also an excellent option.
You won't have to be concerned about your pet's paws coming into contact with the ink. With this lovely artistry, your pet's paw will be forever known. For only a few seconds after applying acrylic paint, gently press your dog's paw against a tough sheet of parchment for only a few seconds. After lifting the paw, it should be rinsed straight up.
What happens if my dog eats acrylic paint?
If the acrylic is water-based, it may only produce gastric abdominal discomfort, purging, and dysentery.
There is no such thing as a safe measure of paint or a "poisonous quantity." It is better to approach your vet and discuss the matter. If you have any doubts about your pet's health issue, always seek the counsel of your vet.
Although the acids present in the paint may bother your dog's body or nasal passages (such as those in his mouth or throat), they are rarely toxic. Even then, if your dog tries to eat a significant amount of acrylic paint, he may suffer drowsiness.
First and foremost, unless your vet advises otherwise, do not cause vomiting or feed anything to your dog. If breathed, solvents in oil-based acrylics can cause respiratory problems. They can cause loose stools if consumed. If the paint includes significant metals, your dog might be harmed (lead, cadmium, etc.).
Can I use acrylic paint on my dog's fur?
Acrylic paints can be used directly on the skin by children, so the paints are not poisonous to dogs as well. Match the color of a piece of fur that is ruined or merely not the shade you want. You don't have to conform to the fur's natural color.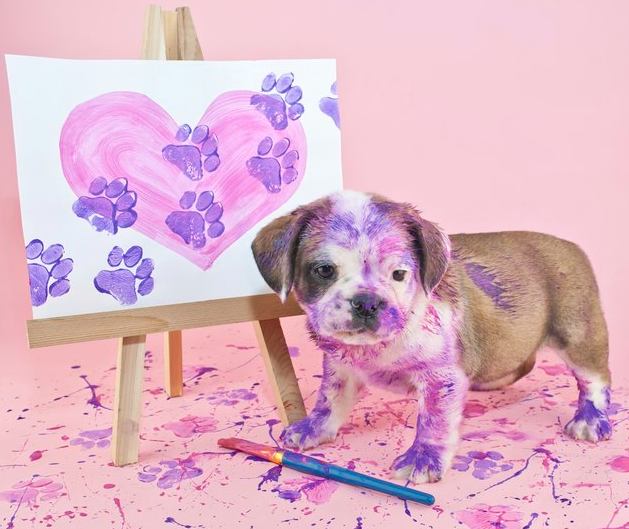 For a truly special look, color the fur in shades that aren't seen in nature, such as blue or pink. To avoid knots and an uneven squirt, do a testing spray on the fur first, then brush the paint across the fur's area. paint in the order the fur grows, then against it, with even motions.
Do not use too much paint. Apply sparingly to avoid sticking the fur.
Is "licking acrylic paint water'' toxic to dogs?
Dogs are drawn to buckets filled with water or some substance and they may lick it or consume the entire contents. Toxic metals and chemicals in these items could be exceedingly hazardous to your pet.
If your dog licks the acrylic water, call your local vet or the APCC if the dog's health is getting harmed. Even though most artist paints, such as acrylics and spray paints, are relatively non-toxic, particular colors may include specific elements that pose a risk to pets. If it is water-related, it may only induce digestive symptoms such as nausea, puking, and diarrhea.
There is no such thing as a safe dose of paint or a "toxic dose." If your dog's immunity is weak and the toxins are powerful, illness could occur.
Is Apple Barrel paint safe for dogs?
Apple Barrel Colors are multipurpose acrylics created in the United States. They are non-hazardous and made of water. Even though practically every non-hazardous paint can do so, the apple Barrel color on the paint always stands out. If you want to paint patterns on your dog that will last for some time, apple colors are a terrific choice.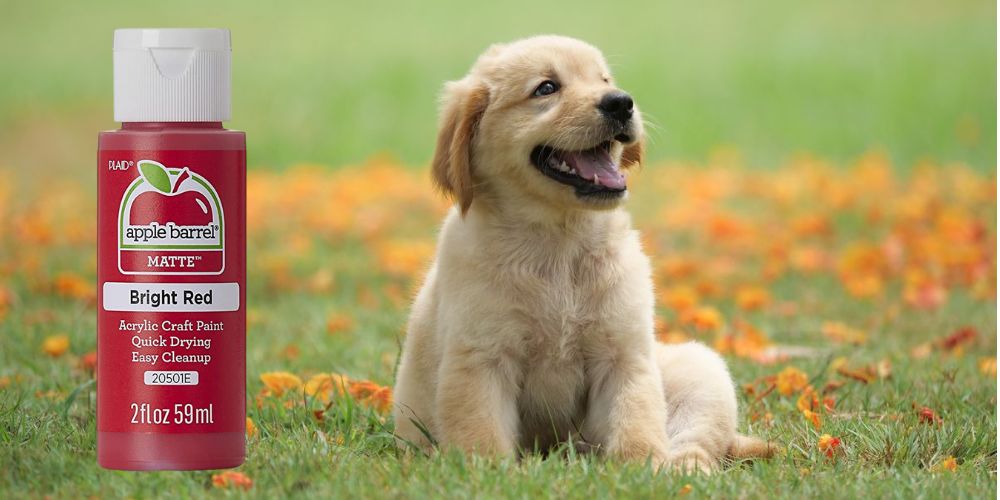 This children's paint is not harmful and has a water base, making it ideal for pets because it is secure and easy to clean.
The acrylics can be applied on a variety of surfaces and can be renewed separately. It is non-toxic, therefore painters can freely use it without fear of harming their fur companions. Because the paint is thinner and runny, you'll probably need several color coats to accomplish your ideal results.
How do you get acrylic paint off dog fur?
The first step is to inspect the fur to determine how much color is present. Check to see how far the paint penetrates the fur. You might just be able to snip the patch off if the dog's fur is longer.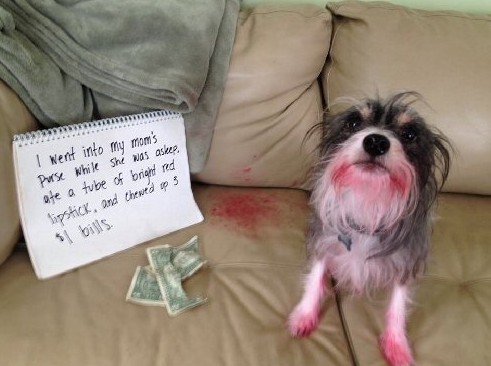 Use a brush as a cue and only remove the fur that is on the outer of the comb to avoid accidentally cutting your dog's skin. If you're not sure about doing this or if your dog doesn't have long hair, get your dog washed off first. Bathe your dog in heated water with liquid soap. With a sponge or a shower puff, rub the coloured fur.
To improve the odds of the color peeling off the fur, make sure it is well saturated. It may take some rubbing just before the paint begins to come off. This should remove the paint from your dog, but you may always take them to a groomer who has dealt with this problem before.
1. What paint is safe for dog paws?
Dog owners should choose paint products that are marked "No VOC" or "Little VOC." Non-hazardous and hefty metal-free paints should also be included on the checklist. You should do your homework because even acrylics that profess to be VOC-free may possess VOC pigments. 
Removable skin paints or washable markers are appropriate and effective, and they won't cost much. A non-harmful paint made with water, including tempera, is also an excellent option
2. Is acrylic paint safe for puppies?
Acrylic paints are safe for puppies if they are water-based and non-toxic, as they are easily washable with hot water and soap. Aso, it did not require the use of dangerous cleaning agents. 
While acrylic paint can emit pollutants into the environment as it dries, make sure you have plenty of airflows while you're painting. Acrylic paints are chosen over oil paints because of their easy, non-toxic disposal.
3. Can washable acrylic paint be used on Dogs?
Washable acrylic paints are non-porous and can be used to capture your dog's paw prints or color their fur for a low cost. Acrylic paints produce rich, dense patterns that are perfect for your pet project. 
Paint on a thick adequate coating to capture the imprint, then place the paw against the project area.  Wash away the color with warm water right away from the dog's paws.
Acrylic paint is indeed not poisonous to dogs, so there's no need to be concerned. Keep an eye on your dog and have your vet evaluate her if the dog seems ill, but there are no hazardous repercussions.
There's nothing else you need to do. If your dog consumes the tube's plastic, you should see a vet immediately to avoid any complications.