Is acrylic paint waterproof? Well, acrylic paint might be slightly resistant to water. Moreover, it is not easy to get a waterproof coat. If one needs to make it waterproof, then he needs to add a sealer over the acrylic paint
But keep in mind, If the surface is not treated in any way then the paint will remain wet. The rainwater will easily fade away your lovely work.
In this article, we are going to describe every detail about waterproofing acrylic paint.
Is Acrylic Paint Waterproof?
Since Acrylic paint is mixed in acrylic polymer emulsion, it is slightly water-resistant but not perfectly waterproof. If you have not dealt with the surface by any means and the paint is still wet, the rain can wash away the acrylic paint.

There are small hardly visible pores present in the acrylic paint. The main reason for the fast drying of the paint is its porousness. As it is porous so the paint will absorb water slowly. When it will absorb the water entirely then it will be softer and dries up easily.
But even after drying it is not completely waterproof. Being water-resistant it can stand up pretty well to water, but it can subvert over time.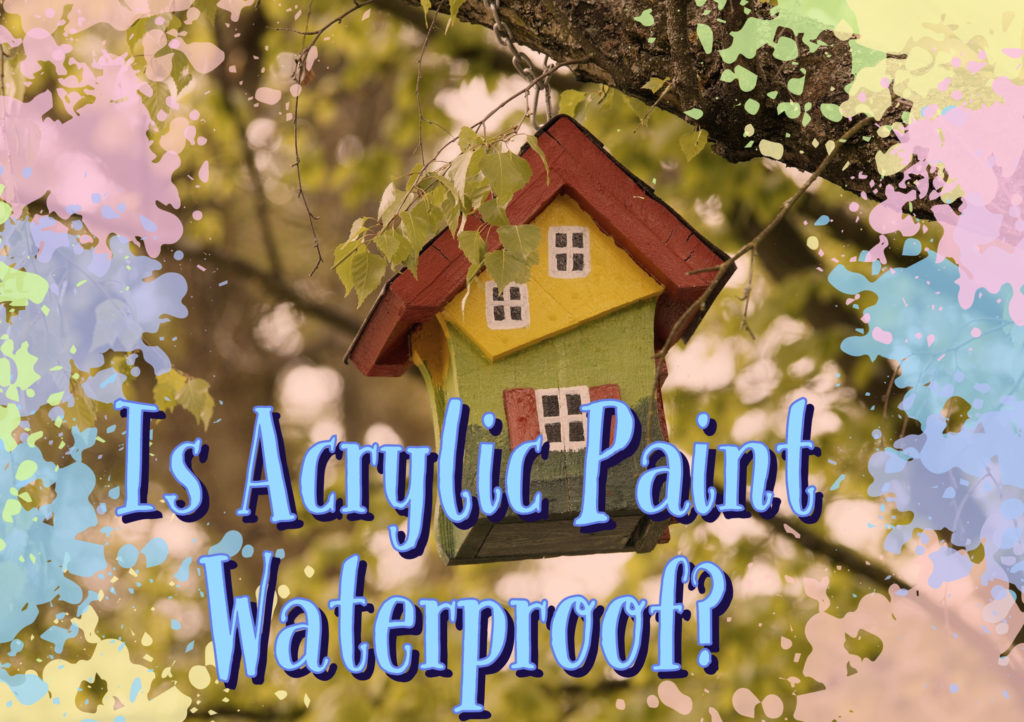 Keeping these things in our minds we can say that Acrylic paint needs to dry for at least 3 hours. An acrylic paint is a chemical based form of liquid plastic , which implies that it becomes plastic and water-safe once it is dry. So to conserve this paint to function, it is best to varnish or gloss them so that they undergo the examination of time. Acrylic paint is pretty sturdy as far as art paint goes.
There are many waterproof acrylic paints also available in the market but still, you have to expose it until it dries completely.
Why Do You Need to Waterproof Acrylic Paint?
As Acrylic paint is water based. Any artwork created with the help of acrylic paint can't withstand water. So waterproofing Acrylic paint is a necessity.
The research shows us the three main components present in any acrylic paints are pigment, binder, and vehicle.
Pigments are the granular solids that give the paint its color.
Binder is the substance that keeps pigment in place after the paint dries.
Vehicle implies the part of the paint that carries the pigment and binder.
We must say that acrylic paint is not exactly waterproof. Many creative minds like to express their artistic soul on different types of outdoor tools like bird houses, post boxes, unused glass bottles or any outdoor canvas. So varnishing acrylic painting with a permanent water-based coat is a must so that all of your efforts don't go in vain. Varnishing also can protect it from many bad weather conditions like snowfall or rain.
One can even use a thin layer of drying oil like walnut or linseed after two to three days. After that, you have to wash it with distilled water to get rid of the surfactant.
The ideal temperature for storing acrylic paintings is room temperature which should be between 60F and 80F.
How to Waterproof Acrylic Paint?
We have already mentioned about water-based acrylic polymer emulsion which prepares the acrylic paint to dry fast. The water starts to evaporate and after that, it permits the paint to dry.
Waterproofing your Canvas when using Acrylic Paints:
It is easy to get varieties of canvas and most of them are already primed. You can also use the Gesso primer if the canvas is not primed.
After painting, you can also protect the art by spraying it with the ultraviolet protection product.
If you are in doubt then you can also use Krylon UV-resistant clear coating. It will safeguard your painting from the scorching sunlight. Give time for it to dry up entirely. Apply several coats to protect the canvas.
Waterproofing Acrylic Paint on Glass:
You need to put the painted glass item into the oven. After that, turn the oven to 350 degrees Fahrenheit. The glass will start to heat as soon as the oven heats up. You have to be careful that it does not break.
You may also set a timer of about 30 minutes for enamel paint or acrylic paint. When you have finished heating, then let it remain to cool. After that remove it from the oven. Make sure to open the oven door so that the fumes get released. Now wait for 72 hours and then wash gently by hand.
Waterproofing Acrylic Paint On Wood:
Generally Polymer varnishing can help you to increase the stability of the paint. As the paint dries the water content of the acrylic paint can pull out the impurities that are present in the support. So yellow or brown discoloration may occur in the art work over time.
If you want to protect your acrylic painting on wood from dust, UV rays, and Yellowing, then sealing is necessary. Sealing normally eradicates any warping or rotting wooden particles from your paint. Acrylic paint sprouted actively when one sealed the painting on wood.
Golden Polymer Varnish, Liquitex Acrylic Polymer Varnish, and Lascaux UV Varnish are three best kinds of varnishes that one can use.
Other than that, it is also crucial to preserve the acrylic paint that you have locked on wood. To make a spectacular painting waterproof, one must increase the knowledge of how to seal acrylic paint on wood. The step by step procedures to sealing the paint are as follows
Clean the surface thoroughly so that the dust particles can't create any uneven surfaces on the wood and affect the efficiency of the sealer.
Rub the surfaces with a damp cloth and keep it to dry, and then with the help of a paint brush or a sponge apply a thin coat of acrylic medium sealant onto the wood.
You need to seal both the sides of the wood.
Allow the sealant to dry and then wipe the first coated surface clean again properly.
Apply the second coat and let it dry perfectly.
You can also use a good primer before painting to make your painting more durable.
Make a note that cleaning, drying and coating are the three main vital stages for perfect sealing or waterproofing of any acrylic paint on wood. If you miss any of the steps the sealing process can hamper.
Waterproofing Acrylic Paint on Plastic and clay:
It needs lots of preparation to make a waterproof painting on plastic and clay. Plastic has a smooth surface. So, one needs to use sandpaper to make the paint stick.
Poly varnishes usually help to improve the preserving process of the acrylic painting. Moreover, you have to wait for at least 72 hours to make it waterproof.
A similar process is involved in clay as well. There are sealers and base coats that will give the best outcome when you are using acrylic paint.
Waterproofing Acrylic Paint On Rocks:
Waterproofing acrylic paint on rocks seems a little bit tough. It entirely depends on what you exactly want to paint.
After painting your rocks you have to seal the rocks so that it preserves the artwork and keeps it waterproof.
Polycrylic or water-based polyurethane both could be better choices for sealing your acrylic artwork in outdoor surfaces.
Why Would Varnishing Help?
Varnishing is the method of protecting acrylic paint not only from the ultraviolet rays of the sun but also helps it to get rid of dust. On the other hand, varnishing also furnishes a removable surface to the painting.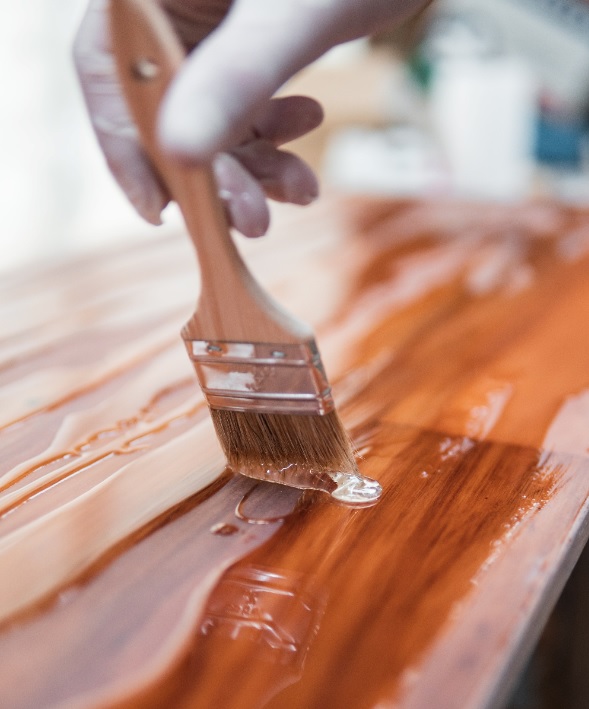 Your painting will remain smooth. The temporary surface will assemble the dust, dirt, and smoke. It will also give the painting a glossy effect.
One has to make certain that whatever they are varnishing with, can be effortlessly cleaned off without eradicating the underlying masterpiece. Many novices try to avoid varnishing, but it is highly recommended.
What makes varnish waterproof?
Varnish is the combination of solvent, resin, and dry oil. The main purpose of varnishing is to provide a hard shell finish that protects the painting from turning yellowish or dirty. These ingredients make a varnish waterproof.
Lacquer is a mixture of dissolved tree resin or synthetic resin in alcohol.
It can expand a yellowish stain over time that is contemplated as unappealing on softer woods. On the other hand, lacquer brings out a rich, warm, and uniquely scratch-resistant finish on deep-toned wood.
The lacquer is available in an assortment of sheen selections. Moreover, it can be watered down with lacquer thinner.
Do you Need Special Tools To Apply The Varnish?
Yes, sometimes we need a special tool to apply for the varnish.
Among various tools, the best one is to use a chisel edge brush. The brush works efficiently and gets into detailed corners and regions. However, it is better to get rid of square-edged brushes for varnishing. People have a wrong notion that any brush functions well. It is not like that.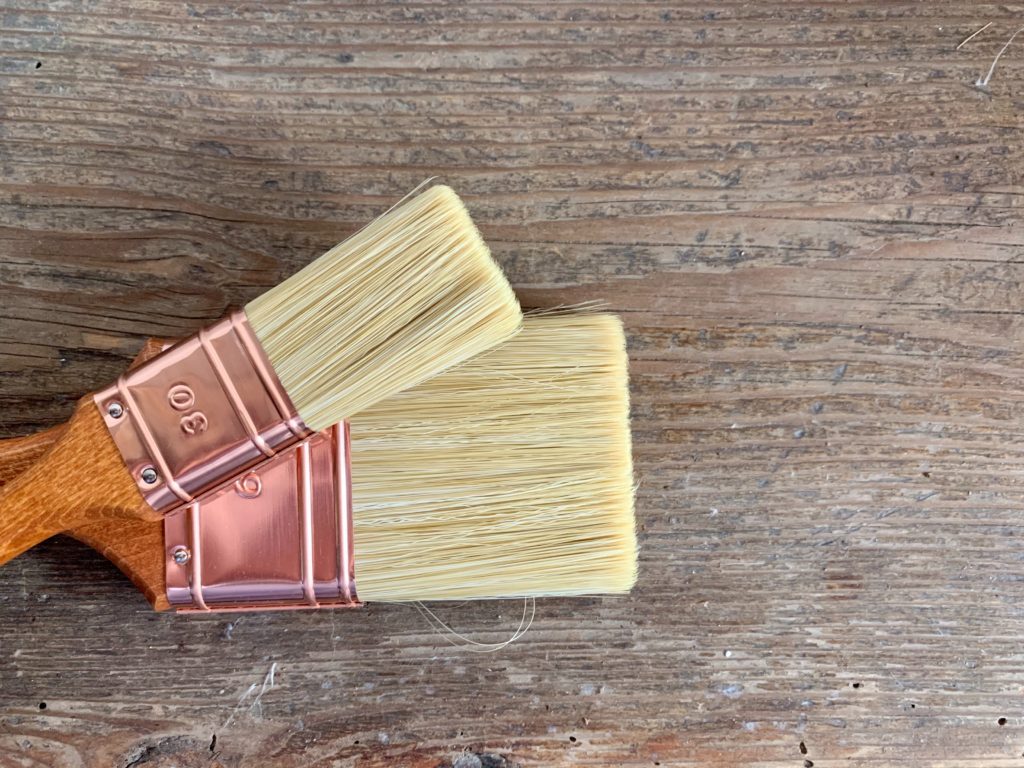 Try to ignore the cheap brushes. Those will leave a permanent stain on the paint. The brush deeply varnishes the paint and gives you the perfect feeling.
Can The Varnish Ruin Your Brush?
Yes, varnish ruins the brush.
If you don't want to ruin the brush then you should use a soft-bristled brush to avoid streaking. If you rinse the paintbrush and then place it in water, the bristles will not harden. However, one needs to immerse the brush in water when you are not using it.
By that process, it will not only look new but also soft as well. Note that you should avoid the brush with a wooden handle. It might hurt the brush. It is better to dry it with a towel and then use it. This method will help your brush to retain. But it doesn't mean that you will use the same brush for a lifetime.
Types of Varnishes for Acrylics
There are various types of varnishes available for acrylics. People often get confused with glossy, matte, and satin.
Glossy varnish will certainly accentuate the pigments in a painting. On the other hand, Satin and matte varnishes will cultivate less glare but satin and matte varnishes will also loosen up the colors.
The matte varnish will precisely lighten darker colors. Matte varnishes are usually incredibly flat, and satin is somewhere in between glossy and matte.
You can mix glossy, satin, and matte varnishes to get your desired finish.
Frequently Asked Questions
Get your questions answered here:
Can I paint over waterproof paint?
 Yes, you can paint over waterproof paint. One can waterproof the surface with a cement board. A waterproof membrane should be kept at the top. However, instead of installing the tile, you may paint over the waterproofed surface.
 How long will acrylic paint last outside?
If the acrylic paint is handled properly then it might last 5 to 7 years. However, it can last up to 10 years as well. For better results, you can use interior paint outside. It will give you durability.
 

How do you seal exterior acrylic paint?
 The best way to seal the exterior acrylic paint is to put it in the oven. Turn the oven at 180 degrees centigrade for more than 40 minutes. However, the duration depends on the category of acrylic paint.
Can I use interior acrylic paint outside?
 Yes, of course, you can. Interior paints should have to be water-based and they should include latex and acrylic paints. You may also use the oil bases. Another thing is that you can mix the oil-based with water-based.
Something To Consider
However, a question often comes to our mind whether we need to use a primer or not. Well, a primer is a type of foundation which is generally used when the item that you are painting requires something so that the paint gets adhered to the support.
In the case of smooth surfaces like plastic, you need a coat of primer before painting with the acrylic.
Periodically it is perfect to take additional safeguards to make certain that the painting results are maximized. So, save your time, materials, and wealth by waterproofing the painting in the right way.
Hopefully, now you will stop searching for is acrylic paint waterproof? I have tried to provide as much detailed information as possible to address this question. If you still have doubts, feel free to connect with me in the comments below.