Here we present tips on how to get rid of acrylic paint from clothes. We have mentioned hacks from both wet and dry stains. Hopefully you will like it.
Introduction: If you're reading this, then you can't deny the fact that you love art and painting. But like any other activities, some mistakes are bound to happen while painting as well. And if you or your kids are using acrylic paints, then it can become really messy sometimes.
When you are trying to make something creative with acrylic paints like drawing pictures, designing showpieces, by mistake paints can spill on your clothes. When it dries out completely, it gets impossible to get rid of acrylic paint from clothes.
But now you don't need to worry about this much. Earlier we have talked about removing latex paint from plastic but in this article, we are going to share some instant and easy-going techniques to get your job done. So stay glued with us to learn how to get rid of acrylic paint from clothes.
Methods: Acrylic paint is made with some moderately harsh material. So in the case of your delicate clothes like silk, you have to deal with them more cautiously. It can damage your delicate clothes completely. Some methods are given below. You can choose any of it, suitable for you.
How to Get Rid of Acrylic Paint from Clothes (Wet Paint):
It is the easiest way to remove the wet acrylic paint from your clothes. When the paint is wet, it doesn't bind to clothes tightly. So it gets removed easily.
a) You need to put some liquid soap on it and rub it gently. If the damage is severe, then you can rub it with a scrubber too but not forcefully, or else your cloth will be damaged. After rubbing, wash your clothing with normal water. Repeat the process three to four times, until the stain is fully gone.
b) Alcohol-based deodorant also finds helpful in this matter. Spray a good amount of deodorant on the affected area and rub it gently with your hand. You will see that the paint will start to get loosen.
Then wash your clothing with liquid soap and water. If the stain is not completely removed then you can repeat this process two to three times.
Get Rid of Acrylic Paint from Clothes (Dry Paint):
Always try to remove the stain of acrylic paint when it is in wet condition. Once it dries out, it will be difficult to remove it. It is difficult but not impossible. In the below section, some mess-free techniques are described. Just follow these steps to know how to get rid of acrylic paint from clothes.
Ammonia and vinegar mixture works great on removing the dry acrylic paint stain. First, you need to soak your damaged cloth into a bucket filled with mild warm water. This will help loosen the stain to some extent. Then mix one cup of ammonia solution and one cup of vinegar in a different bowl. After soaking that clothing for 30 minutes, take it out and put this mixture into the affected area. Give it some to dissolve the paint and rub it. Then wash the cloth with plain water and soap. The stain will have vanished.
Nail polish remover can also be your savior. As nail polish remover is an acetone-based solution, it can remove the paint stain. What you need to do is, put some nail polish remover on the stain and rubs it gently with your hand. The paint stain is slowly dissolved and comes off from the cloth. You can also apply this technique with a damp cloth as well. After rubbing, wash the acetone and paint it off with water and soap. It is a very easy going and fruitful process.
If a small portion of paint spills on your cloth then you can try alcohol-based surface cleaner to take it off. First of all, you need to soak the damaged area with water and then apply some surface cleaner to it. Then scrubs it with your fingernail or cloth scrubber but gently or else the material will be damaged or torn. Once the paint is completely come off, wash the cloth well with detergent.
If the paint stain is not much older, then you can also use this simple method. Take a bowl half fill with warm water and add some liquid soap into it. Mix it well and put it on the damaged part of the cloth. Give some time to dissolve the paint and wait for some minutes. Then scrub it with nails or a tablespoon.
In this method, you need to take a bowl filled with water. Then add 1 tablespoon of baking soda, liquid dishwasher, and 1 tablespoon of rubbing alcohol. Now soak the affected area into this mixture for 10 minutes. After 10 minutes take the cloth out and rub it with your hand for 2 to 3 minutes. You will see the stain is almost going. After washing it with water and detergent, the cloth will look like a new one.
What Should You do to Remove the Acrylic Paint Stain from the Carpet?
Sometimes while painting, your child mistakenly spills paint on your favorite carpet. If you think that the carpet is gone wasted then you are wrong. By following some simple steps, you can easily remove the stain of the acrylic paint.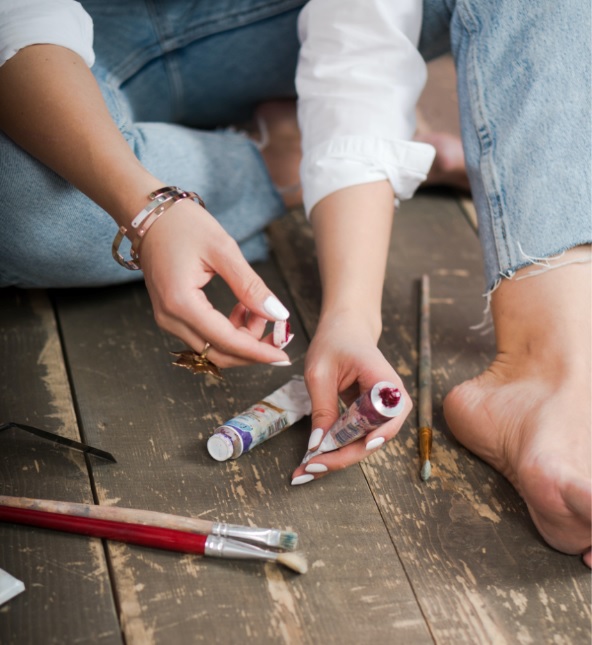 First, take a bucket that is large enough for your carpet. Fill it half with lukewarm water and then add a liquid dishwasher and rubbing alcohol. Mix this solution well and put the carpet into this bucket. Let it be soaked for 10 to 15 minutes. Then take the carpet out and wash it in your washing machine. If the stain is not gone completely then you can repeat this process. After washing it, dry it out in your machine otherwise it will smell.
If your carpet is really large then you can also put this mixture in a spray bottle and spray it on the damaged area. Wait for 5 minutes and spray again on it. Repeat this process 2 to 3 times in a 5 minutes interval.
FAQ
Get your questions answered here:
Q.1) Can acrylic paint be washed off?
Ans: Yes, you can wash off the acrylic paint from your clothes with the help of some easily available material. Rubbing alcohol, nail polish remover, vinegar, and ammonia solutions are effective and many people get positive results using these techniques. But try to remove it as soon as possible. Once it starts drying, it will be more difficult to remove it.
Q.2) How much time will it take to set the acrylic paint on clothes?
Ans: It takes a minimum of 24 hours to set it properly and permanently. You can also use heat treatment for better results. If you are doing any artistic work on your clothes with acrylic paints then it is fine. Otherwise, you spill it on your cloth, unfortunately, then wash it immediately.
Conclusion:
Acrylic paint is a very useful material and you can design many creative and beautiful things with it. But if it sticks to your favorite tee-shirt or table cloth or curtain, then it will be a bit annoying.
So we make this article to help you out and give some reasonable solutions on how to get rid of acrylic paint from clothes. 7 different ways are described in the above section. All of them are effective. You just need to choose your favorable one.