Fabric paint is one of the valuable tools for cloth customization, bags, table cloth, sheets, etc. But do you know how to paint on fabric permanently? Well, research on this topic has proven that fabric paints generally function on a single type of fabric.
However, sometimes it becomes difficult to find out which one is best for them. Well, a question often strikes our minds regarding acrylic paint. Can we use it in the fabric? The answer is certainly yes.
However, it is important to know not to use raw acrylic directly on the fabric.
One should mix it with either GAC goo or with Liquitex fabric medium. The main thing that we need to keep in our mind is that fabric painting is dependent mainly upon the perfect blend of acrylic paint.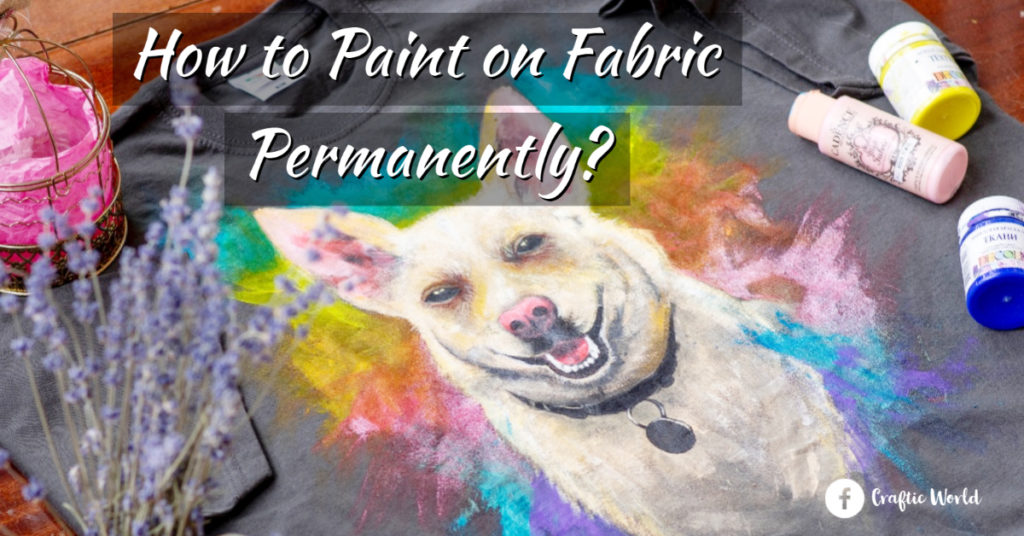 ---
How Can We Choose The Right Paint For Your Fabric?
Choosing the right paint for your fabric is a little bit difficult. However, don't panic. In this section, we are going to describe everything related to the paint on the fabric.
The fabrics which are darker need opaque paint. Generally, furniture requires thicker finishes.
You may use liquid fabric paint in it's acrylic form to paint the wider surface. The paint will start to saturate in larger portions. It is perfect for making big art canvases and pieces of furniture.
It is generally best to use acrylic fabric paint. Fabric paint is also known as textile paint. It is made up of acrylic polymer. However, acrylic is bonded with color and after that, we emulsify it.
The main purpose of it is to maintain durability. Even if you wash your fabric several times, it will not harm you. However, if you want to try something different, then alcohol-based fabrics. The finish will be lighter and more porous than acrylic.
The material of your fabric is another important thing to consider. You have to make your mind how transparent or opaque you would like to paint. Generally, in the case of opaque paint, the dark fabric will be the suitable one. If you want transparent, then you may use lighter fabric. It depends entirely upon the user.
---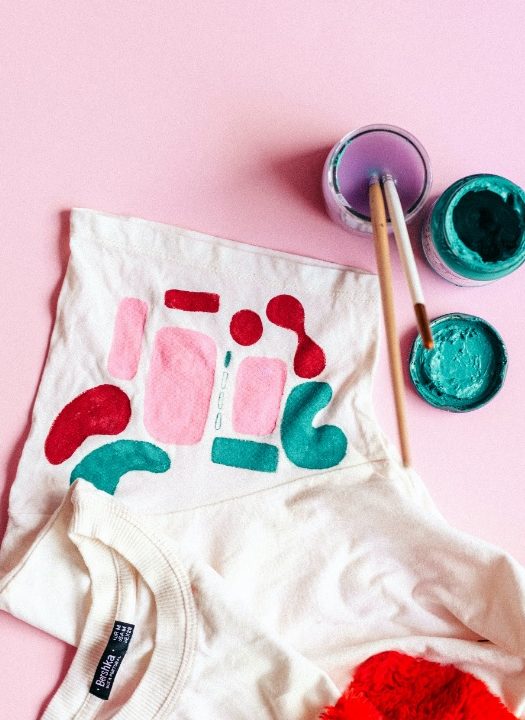 Is Acrylic Paint Permanent On Fabric?
Is Acrylic paint permanent on fabric? The answer is certainly yes.
If you spilled the acrylic paint on clothes, then it will become very hard to get rid of. But if you are planning to paint the cloth with fabric, then the best and ideal option for you is to use the textile medium.
If you want the paint to be permanent on the fabric then set the paint with heat. This step tells you that the design will last long.
On the other hand, it is difficult to get rid of the spilled paint. Even after several items of washing, the stain remains there. If you soak the cloth with hot water and scrub it, then little portions of the paint will go. But for safety in permanency, you can utilize more layers and coats of colors on your cloth. But remember, not to scrub it. Many people paint their jeans with acrylic paints due to the permanency.
---
How To Paint On Fabric Permanently?
If you are looking for a guide on how to paint on fabric permanently then it is better to use regular acrylic paint on fabric. You may print on fabric wall art or in the room curtains. Acrylic paint is very versatile to use.
There are different types of brands of fabric medium. You have to choose according to your desire.
You need to mix one part of fabric medium with two parts of acrylic paint. The fabric medium is a liquid so it gets mixed handily with the paint and dilutes it out a bit. However, it will not dilute the entire color of the paint as far as we could tell.
Now, you have to wash and dry your fabric prior to painting if feasible, then paint away. When you complete the paint, then keep it dry, at least for 24 hours. You are required to heat it for permanency and washability. Generally, we heat the fabrics by using an iron on medium or high heat for 3-5 minutes.
We must suggest you to put a chunk of fabric between the paint and your iron to guarantee no paint is transported to your hot iron, or turn the garment inside out and iron on the non-painted side.
However, it is better to buy a high-quality fabric medium. The high quality will give durability and flexibility. So, it depends upon you which one to use.
How do you keep acrylic paint on fabric?
Acrylic on cloth has a tendency to wash out or fade over time. This is why some individuals choose to use heat to set their products. Using heat ensures that the paint is firmly adhered to the fabric.
a) How do you seal acrylic paint on fabric?
Some people recommend finding a transparent fabric medium, mixing it or using it directly from the bottle, and painting that solution over the top of your artwork. The medium should develop a bind with your cloth and the other paint as it dries.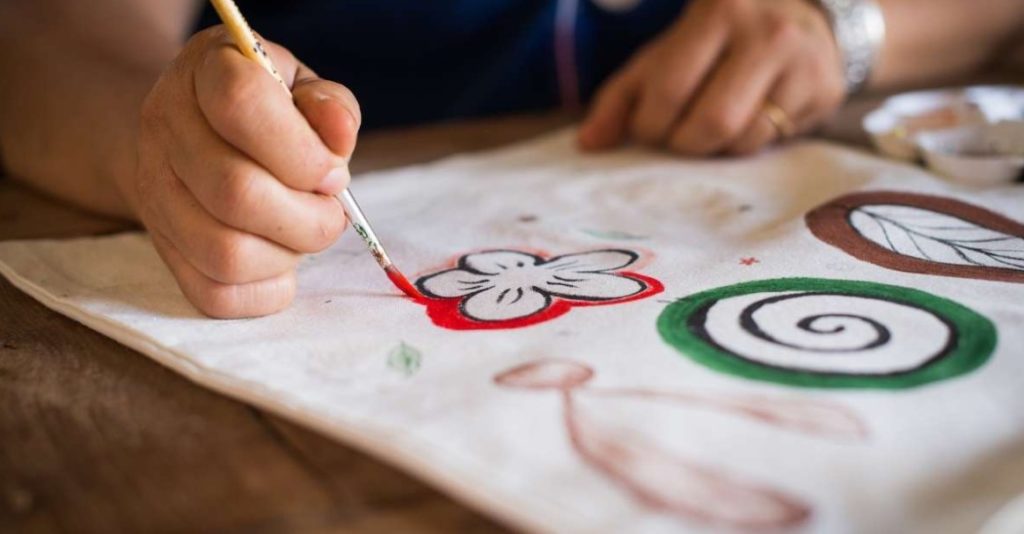 When it accomplishes this, you should have an image that looks great and will survive through many washes. Follow the directions exactly, and if you're unsure, go to your local craft store or fabric outlet and ask the professionals for help.
b) Heat setting acrylic paint on fabric
The heating procedure acts as a sealant for acrylic paint that has been mixed with fabric medium.
For heat setting the acrylic paint, place the pressing cloth over your painted fabric. Make sure the cloth completely covers the paint, then flip it upside down. Preheat your iron to medium-high heat.
After you are sure that the iron is not too hot for your fabric, you may start ironing the cloth. Iron the cloth slowly and gradually, covering each section of the painted surface for a maximum time span of ten seconds.
Touching the fabric should be avoided until it has cooled. Also if you waited until the paint dried, there should be no danger to your iron. If you are going to produce this sort of artwork more than once, it is a good idea to have an old iron around the house and prevent using your excellent one.
---
What Is Fabric Medium?
Fabric medium can be defined as thick fluid.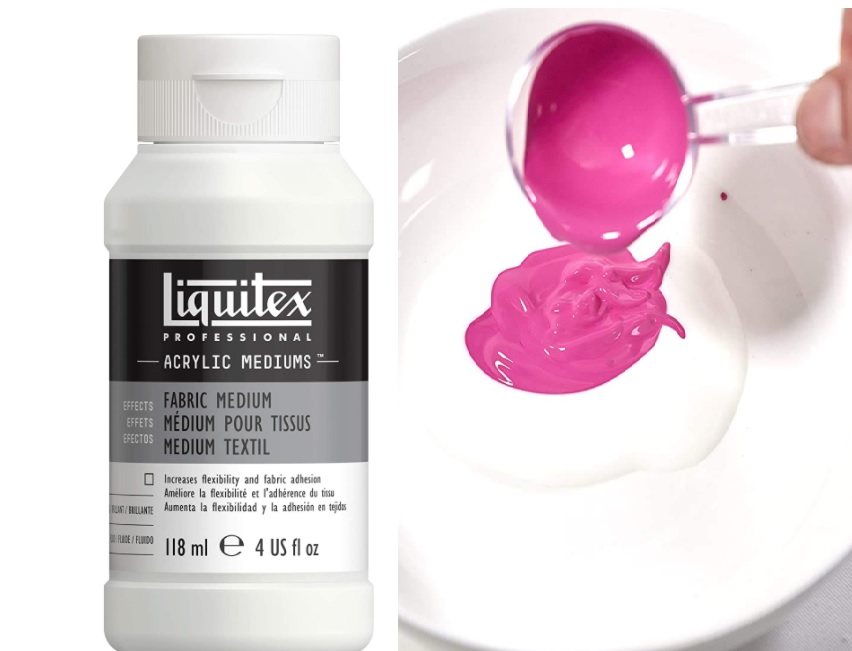 It has the characteristics of opaqueness. It dries up colorless. There are lots of utilities for fabric mediums. It generally assists the fabric paint in various methods.
Let's discuss the benefits of fabric medium
It lessens the color bleeding after  it with water.
It assists in penetrating the surface of rough fabrics. For instance, the paint covers the surface properly and gives a smooth look. You don't have to scrub it.
It also makes the painted fabric to be soft when it dries. It is especially helpful when we crave to paint cloth or garments. It needs to be soft as well as flexible.
If you want to extend the working time or to blend colors, then you need to mix the fabric medium in the ratio of 1:1 with the soft body acrylic paint. You have to add more paint to get an opaque look. On the other hand, use fabric medium for getting the translucent look.
You can use this fabric medium, as I have used it personally for many years, and it works very well.
---
How To Correctly Use Acrylic Paint On Fabric?
If you want to get flawless painting, then you have to use acrylic paint perfectly.
Before starting to paint, you need to take a piece of medium-grit sandpaper. After that rub the surface of your fabric.
Take a spray bottle. With the help of it, spay the water. Don't spray much water; otherwise, it might have an adverse effect. Spray lightly to the entire part of the fabric.
After that, take a little amount of water to thin out your paint.
Adjust your paint with the addition of fabric medium. You should use Liquitex fabric medium if you desire a stretchable and soft outcome. It is necessary to add an adequate amount of water.
After that, use a separate piece of material for testing purposes. It has different absorbency power and it will give your fabric the best look.
There are various types of fabric to adhere to the work surface. It is better to lay down a protective sheet. For instance, you are painting something on the t-shirt, then for a better result, you should put cardboard under the cloth. The paint will not be damaged. After that, dry the cloth properly.
---
Which Is The Best Acrylic Paint For Fabric?
There are lots of acrylic paints available in the market. The higher the price, the higher will be the quality.
If you are using the paint for the first time, then it is better to use the best quality. Then you don't have to add much water.
On the other hand, if you want to use the inexpensive one, then you have to mix the other ingredients properly to get a better result. The best one is the Jacquard Dye Na Flow paint set. You should try this. It is an acrylic-based business fabric.
The colors are perfectly vibrant, especially on the light-colored fabrics. The best part is that it is extraordinarily durable. It will give your fabric a gorgeous look. Other than that, it will not create a problem if you wash the cloth after applying it. For getting the best result, you may use it on synthetic or silk material.
If you ask me, then I would say that Jacquard Dye Na Flow paint set is the best one that you can buy.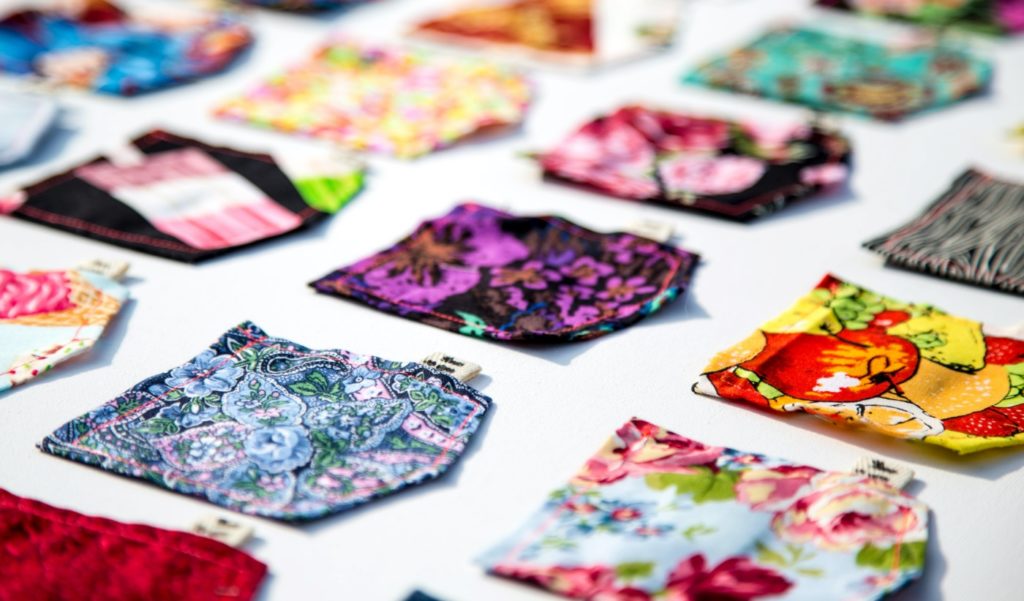 Some Additional Tips
It is essential to use the perfect variety of brushes. Small as well as big brushes are required.
Mixing the paints in an adequate proportion is one of the important tasks to perform. So, you should be careful about it.
The best thing to keep the paints moist is to mix them in the proportion to water.
You should try the painting first on different pages. After that, try to apply it in the cloth. You will get the perfect and best result.
---
FAQs
Get your questions answered here:
Is it necessary to seal acrylic paint?
Yes, it is necessary to varnish an acrylic painting. The main purpose of vanishing is that it will protect them from dust, yellowish and ultraviolet rays of the sun.
How much time should acrylic paint need before sealing?
The research states that acrylic paint generally takes 10 to 20 minutes. However, slow-drying acrylic mainly remains wet on the canvas for at least an hour.
How much time generally acrylic paint needs to cure entirely?
Generally, acrylic dries rapidly on the surface. But if you give time for at least one week, then you can see that it dries entirely.
It is great you have read the entire article on how to paint on fabric permanently. We have given you the relevant and important information regarding the topic. Nowadays, almost everyone tries to make some unique designs on the clothes.
So, there is no need to go outside for painting. with the help of acrylic painting, you can paint the cloth on your own. You can create various designs.