Nowadays, there is an increase in demand for wooden crafts. People like to decorate their house with handicrafts. The acrylic paint on the wooden crafts provide uniqueness. You can use acrylic paint on various kinds of surfaces. But can you use acrylic paint on wood?
It's a fact that one can easily turn a piece of wood into a beautiful painting with the help of acrylic paint. However, it is not easy to use acrylic paint on the wood. You have to get in prepping the wood carefully. Most of us think that acrylic paint is like other paints, but that's not 100% true. That is the reason you need to know the proper utilization of acrylic paint on wood.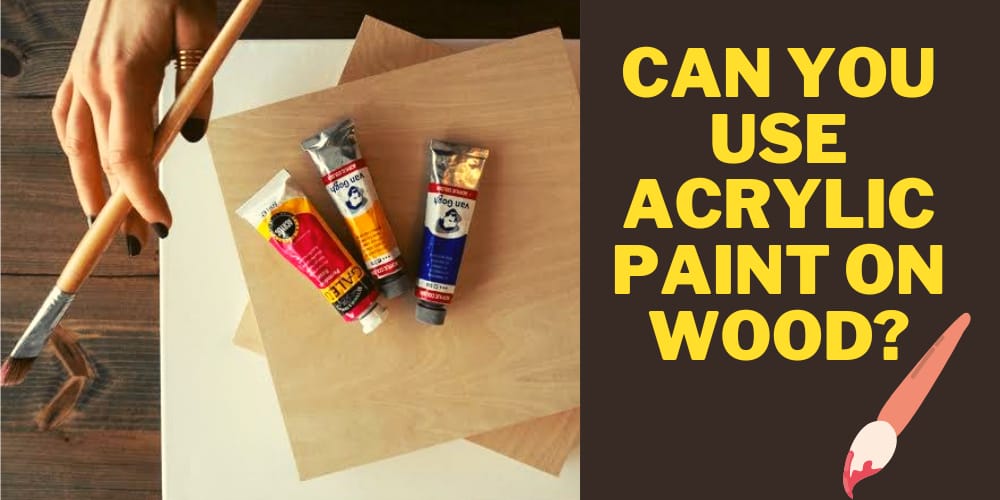 In this article, we are going to discuss some of the important points  to keep in our minds while painting on wood with acrylic paint. But before that, let's answer the question in hand first.
---
Can you use Acrylic Paint on Wood?
Yes, of course.
You can effortlessly use acrylic paint on wood. In fact, acrylic is the best paint to use on wood. It is the cheapest as well. The paint dries up quickly and doesn't stick. Moreover, it doesn't let off any fumes or toxins. So, one can easily use the paint on an enclosed area or the outside of the wood.
If you want then you can also use the paint on various projects. However, to keep the longevity of the paint, the paint needs to be sealed. We can also say that acrylic paint is discovered to paint on wood.
---
How to Use Acrylic Paint on Wood?
It is known to all that painting on wood with acrylic paint is not an easy task. It is a laborious job. These are some of the important materials and steps required. So, follow the steps and paint on wood with acrylic paint.
Prep your wood and Sand the wood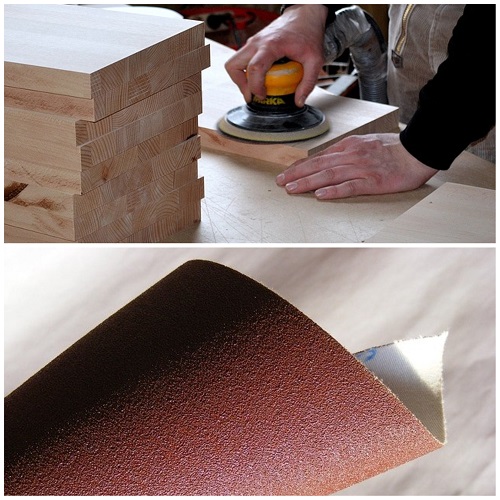 The very first thing that we need to keep in our mind is that we have to prepare the wood properly. A good base is necessary for acrylic paint. The first step is to sand down the wood. A smooth surface is necessary for the paint to work. If you see that the wood is already sand down or smooth enough to work then you can easily skip the step.
However, you may use 150 to 180 grit sandpaper or a sanding sponge to make the surface smooth. After sanding down, it is better to take a clean cloth and rub down the excess dust.
Apply a primer Before Painting
This step is important and we should not ignore it. Without applying a primer, the work will look incomplete. So, apply a thin layer of wood primer. It will help in sealing the paint properly. Moreover, the primer will also help the acrylic paint to stick easily. The light colors will also look vibrant if we apply primer before painting.
Apply the primer gently and keep it for a while so that it can get dry easily. The foremost step to keep in mind is to make the surface smoother. Remember, that the smoother the surface, the better it will be for applying the paint.
Add a background
You may start with the base layer. So, select a good color of your choice. Remember, the color should match your background. We have already mentioned that acrylic paint dries quickly so we have to keep such things in mind.
You need to pour the background color on the stage. It is up to you which color you would like to choose. You can search on the internet and get an idea regarding acrylic paint. However, try to avoid thin paint brushes. If you are thinking of using acrylic paint on wood then one flat paint brush will be perfect for the job.
Keep the paint for a while so that it can dry properly. After that, you can apply for the second or third coat if you wish. Generally, acrylic paint takes 15 to 20 minutes to dry. However, it also depends entirely upon the brand of acrylic paint.
Apply the Acrylic Paint
When you see that the background layer is dry then go apply the acrylic paint slowly. Take a soft and flat brush and start painting with acrylic paint. You have to be a little careful in applying acrylic paint. You also have to drip your brush often in the water to make it clean.
If you do not drip the brush then all the colors will mix up and the painting will be messed up. If you wish then you can also use two to three types of colors for painting.
Let the paint dry
Now the most important step is to keep the painting dry. Acrylic paint dries up fast. After completing the painting, keep the painting for a while in a safer place. You should be careful that other things should not get mixed. After 15 to 20 minutes you should check whether the paint has dried up or not. After that, you can also rub the wood with a clean cloth.
Though the drying up entirely depends upon the brand of the acrylic paint. For quick drying, you can keep the painting in the open air or into the sunlight. It will dry fast. After drying completely, you should carry it and keep it in a safe place.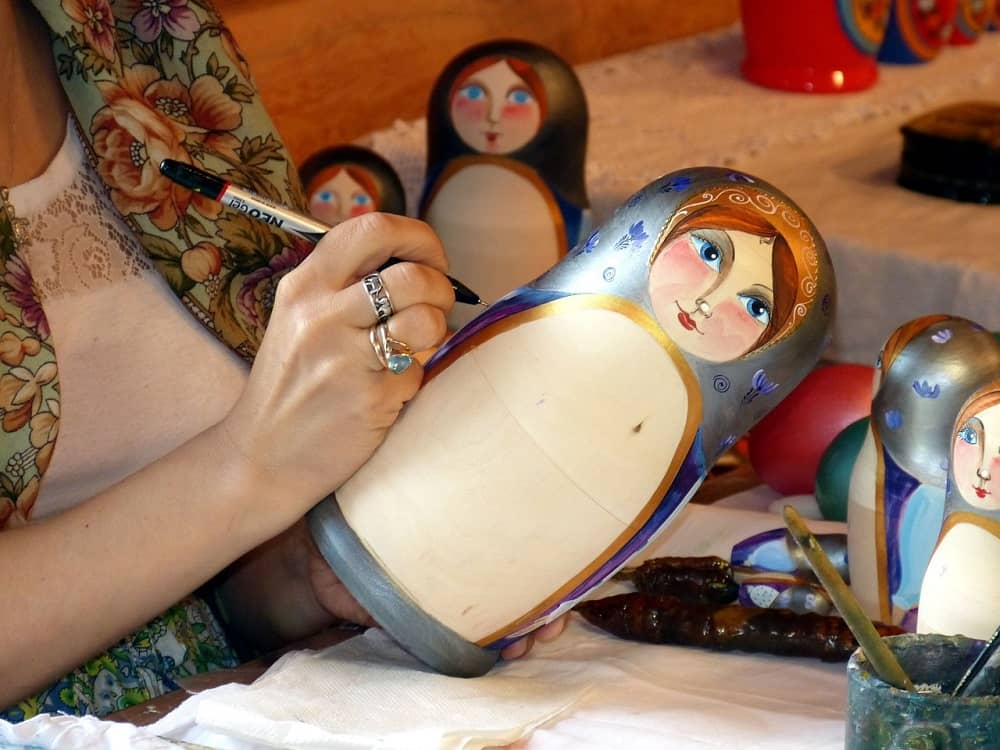 Seal the Painting With Proper sealant
Many people ignore the step of sealing the painting. If you do not seal the painting with proper sealant then it might get destroyed. So you need to choose it according to your convenience. There are various types of sealants which include gloss, matte, satin, and many more. It is up to you which one you would like to choose.
You can choose either to brush on the sprayer or the spray on. However, we must mention that the results are the same in both cases. But you should not miss this important step. Choose anyone and seal your painting.
---
Things to Consider while applying the Acrylic Paint
We have to keep some of the important things in our minds while using acrylic paint on wood.
---
Some Useful Recommendations
Stop searching for can you use acrylic paint on wood, as now you know the answer. Here I present a few products that may come handy for the job.
Best Primers For Acrylic Paint on Wood
The best primer for acrylic paint on wood is Rust-Oleum 272479 Zinsser Bulls Eye 1-2-3 Plus Spray Primer.
Features
The primer provides a smooth and white finish. Moreover, it is specifically designed to hide imperfections by applying one coat.
The primer is oil-based. It will stick to the surface of the wood without sanding.
Which Acrylic Paint Is Best for Wood?
The best acrylic paint is Arteza Craft Acrylic Paint, Set Of 20 Vintage Tones, 2.02-Oz/60 Ml Bottles.
Features
The acrylic paint has a soft body. It is specially designed for artists. It has a palette of vintage-inspired shades. Each set of acrylic paints has a reasonable span of primary and secondary colors to select from.
The bottle consists of 60 ml in quantity. It is a good amount for painting small as well as large projects. Moreover, it is non-toxic and water-based.
Best Acrylic Paint Sealer For Woods
The best acrylic paint sealer for woods is Sargent Art 22-8808 16-Ounce Acrylic Gloss and Varnish. It is a great product and possesses lots of exciting features.
Features
The best part of the acrylic paint speaker is that it is non-toxic and safe to use. Moreover, it dries permanently. It is waterproof and has a protective finish.
Another striking feature is it is mixed with acrylic paint and used as a clear coat. Moreover, it is acid-free, so there is no harm in using it.
---
How Long Does Acrylic Paint Take to Dry on Wood?
Generally, the acrylic paint needs 20 to 30 minutes to dry. But if you want the paint to dry up completely then you have to wait for 10 to 12 hours. However, the drying up of the acrylic paint entirely depends upon the brand or in which condition you are using it. If the weather is cloudy and humid then automatically it will take more time.
On the other hand, if the weather is dry and sunny then the acrylic paint will dry a little faster. But if you want complete dry acrylic paint on wood then it would be better if you wait for a single day. 
---
Can You Use Acrylic Paint on Stained Wood?
Yes, we can easily use acrylic paint on stained wood.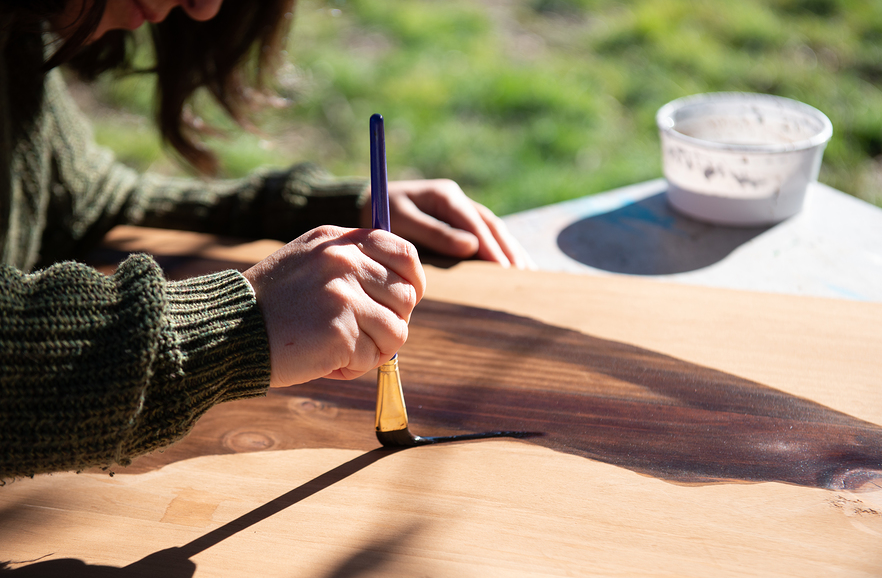 We all know that acrylic paint is non-toxic and has a water-based formula. Moreover, it consists of a pigment that is spread with acrylic polymer emulsion. It is effortless to clean. You will need some detergent to clean the paint. You may use a wide range of woods. It can skillfully give a fresh coat of acrylic paint.
Moreover, it also provides you to follow the essential steps that will result in the enhanced longevity of your project. It is the reason for which acrylic paint has become an exceptionally outstanding alternative for an assortment of wood crafts. Moreover, acrylic paint is easily available in the market stores.
As the acrylic paint is non-toxic, it is great for indoor use. However, it is always recommended to prime any surface before applying acrylic paint.
---
Frequently Asked Questions
Get your questions answered here:
1. Is it Possible to Apply Acrylic Paint to Wood Furniture?
Answer: Yes of course. One can easily apply acrylic paint to wood furniture. Generally, the wood furniture surface is smooth. But still, you need to clean all the wood surfaces. After that apply the acrylic paint. The acrylic paint can easily be done without any hassle.
2. How do you get acrylic paint to stick to wood?
Answer: You should apply a thin layer of wood primer. It will enable the seal of the wood. Moreover, it allows the acrylic paint to apply easier. When a layer of primer is applied, light colors will also occur more vibrantly. So, permit the primer to dry thoroughly before applying for the paint. This way the acrylic paint will stick to the wood.
Final Words
Acrylic paint is in great demand. You can beautify your furniture by applying acrylic paint. We have discussed almost all the relevant points of the paint. If you follow all the steps then you won't face any difficulties. So, apply the acrylic paint to the woods without thinking much.