The translucent nature of acrylic paint is quite popular for offering incredible effects to the artwork. At the same time, artists can also find it difficult to make acrylic paints opaque. Opaque acrylic paints are considered to be brighter and more beautiful when compared to transparent acrylic paints.
Today, we will learn how to make acrylic paint more opaque as it will help you make your paintings bridged, and most importantly, light cannot interfere with your artwork when you use opaque colors.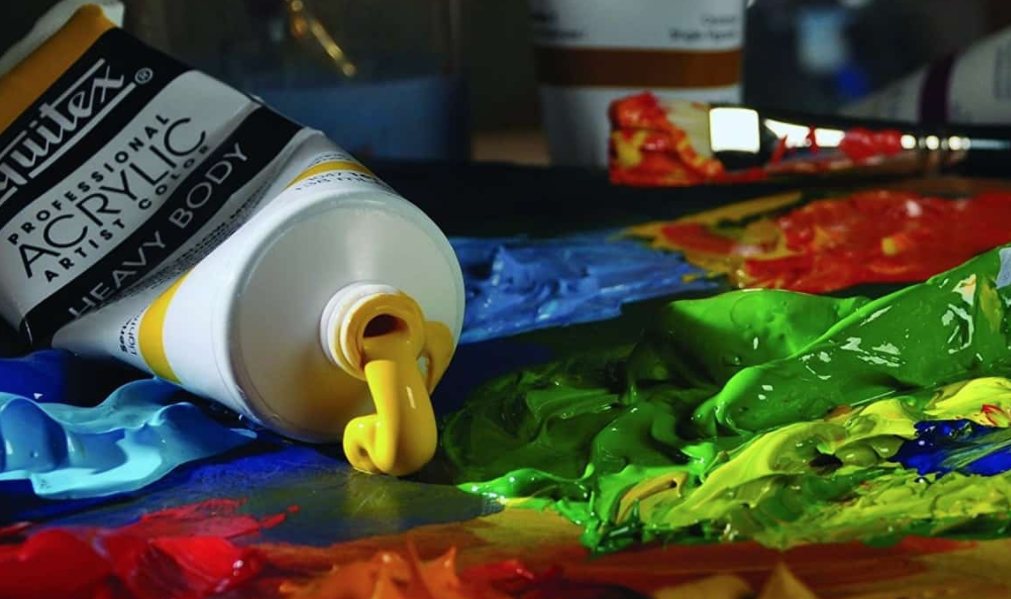 You can either mix the acrylic paint with white color or gesso to make it more opaque. But before starting any process, you will have to learn about the acrylic paint you are using for the artwork and what kind of procedure will suit your needs.
In this blog, we have mentioned the best techniques to make acrylic paints more opaque.
---
Are Acrylic Paints Opaque?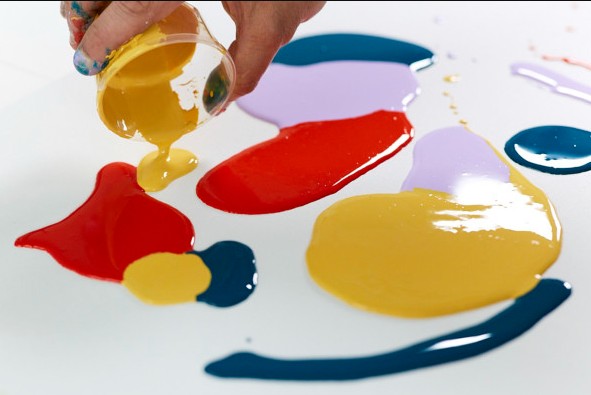 Although most acrylic paints are transparent, you can also find opaque acrylic paints in the market. You must be well aware that acrylic paints have an oil base to ensure that they can look transparent or semi-transparent.
Moreover, the transparent nature of acrylic paint is what makes them special when compared to any other paint. The transparent nature of acrylic paint also makes them ideal substitutes for watercolors.
---
How To Make Acrylic Paint More Opaque (8 Easy-to-Follow Ways Explained)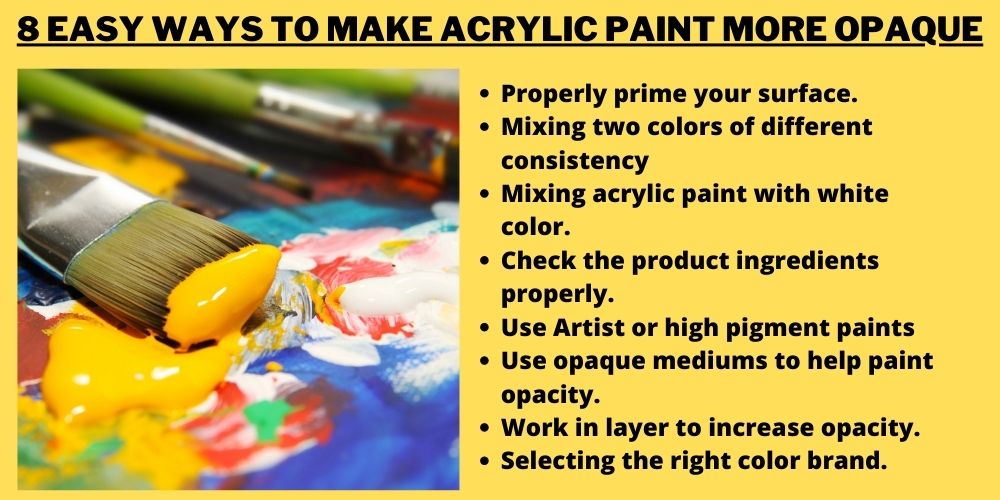 #1: Properly prime your surface:
If you want to uplift the quality of your painting surface, you need to prime the surface well. One of the best advantages of priming the wood before painting is it creates a barrier between the surface and the acrylic paint.
To prime the canvas or fabric, you can use Liquitex Professional Gesso Surface Prep Medium, which will also help provide a smooth painting experience along with bright impressions. The product is also safe for educational use; hence you can use it even when your kids and pets are around. 
#2: Mixing two colors of different consistency:
One of the best ways to make your acrylic paint opaque is by mixing it with a color of different consistency. For example, you can mix transparent acrylic paint with semi-transparent acrylic paint to make it opaque.
Selecting the right colors depends on your shoulders, as you will have to ultimately decide what kind of colors will match your artistic approach.
#3: Mixing acrylic paint with white color:
Do you find choosing the right recipe for mixing colors complicated? Here is what you can do to make your job easy. You can either mix the dark color with white, or you can either paint the surface with white color before applying dark colors.
Most artists use this strategy to mimic the opacity as white color doesn't absorb much light. White color will also not impact your bright colors, and most importantly, it will make your artwork opaque.
#4: Check the product ingredients properly:
When shopping for acrylic paints, it is paramount that you double-check the label before making the payment. Most professional or artistic-grade acrylic paints have higher pigments to ensure that they can increase the hiding properties of the paint.
Although there is no brand that produces opaque paints, yes, there are a few brands that are best in providing the hiding properties. Now, you must be wondering how you will find those brands. To make your job easy, I have mentioned a few brands which provide the most opaque colors in the market.
You can also go with brands that contain pigments like Naphthamide, Anthraquinone, and Phthalo, as they provide higher hiding properties making your painting opaque.
#5: Use Artist or high pigment paints:
As mentioned above, you will have to go with brands that prioritize ingredients like Phthalo or anthraquinone to ensure that you buy a paint that has better opacity.
Well, the majority of artist or professional-grade brands contain high amounts of these pigments; hence the chances of opacity are high; hence you can trust these brands when opacity is the most important factor.
Using high quality or artist level paints will also cover the paint surface better; hence it will make the painting more opaque.
#6: Use opaque mediums to help paint opacity:
You can use opaque mediums to increase the opacity of the paint, but it will only provide opacity to a small extent. When you are mixing opaque mediums with acrylic paint, you will have to ensure that you mix sufficient quantities to make things better.
Although mixing opaque mediums doesn't have a larger effect yet the choice lies in your hands.
#7: Work in layer to increase opacity:
When you are painting with acrylics, it is highly recommended to build layers. You can apply your first fresh coat of paint on the surfacer and then let it dry.
Once it is dried completely, apply 3-5 more layers of the same paint to make the painting more opaque. Although it is quite easy to make acrylics opaque, it will demand a lot of paint, time, and money.
#8: Selecting the right color brand:
Different colors from different brands have different opacity; hence you can change the brand as it can make the paint more opaque.
Our research found that Golden heavy body acrylic introductory Set and Liquitex professional heavy body acrylic paint are the best acrylic color brands in terms of opacity.
---
How can you tell if the paint is opaque?
Generally, opaque paints have the tendency to hide what's under them, making them opaque while you can see through transparent paint.
In scientific language, light can pass through a transparent medium while it cannot pass through an opaque medium. If you want to test whether the paint is opaque, you can take the paint into your hand and draw a line on paper or canvas.
If you can see the painting's surface, then it is translucent, and if you can see through the paint, it means the paint is opaque.
---
What brand of acrylic paint is most opaque?
According to our research and experience, we have tested a few acrylic paint brands that are most opaque. Keep in mind that the opacity varies depending on the type of pigments used by the brand; hence, you will have to prioritize ingredients and pigments over brand when shopping for more opaque acrylic paint.
Here are the top three most opaque acrylic paints which you can shop right now.
---
Frequently Asked Questions (FAQs)
Get your answers here
How do you make acrylic paint darker?
Take the acrylic paint which you want to make darker in a clean container. One of the best ways to darken acrylic paint is by adding a small amount of black color and mixing it thoroughly. Add black color in small quantities until you get the color you want. Don't use the merrier option here, as even a small amount of black color can make the color darker. 
How can I make my acrylic paint more vibrant?
If you want to make acrylic paint vibrant, you will have to either have a glossy medium or paint in such a way that vibrant colors are close to the dull ones as it will make the painting look more visually appealing and vibrant. You can also dilute the acrylic paint and apply multiple layers to make it look brighter. 
Conclusion:
Transforming acrylic paint into opaque is not rocket science if you follow the above-mentioned techniques of how to make acrylic paint more opaque in the best way. Acrylic paints are available in different forms like transparent, semi-transparent, and opaque (Professional grade paint).
You have to shop for the opaque version to ensure that light cannot pass through your painting or artwork, making it look more beautiful and unique.
Also, don't forget to prime the surface correctly before applying acrylic paint, as priming has a major impact on the opacity of the artwork.