Nowadays Tie dye clothes are on-trend. It is a way of adding vibrance to the neutral or dull fabrics. It is an old form of dyeing and shading method on any kind of creased, folded, double or pleated fabric. 
But, can you tie dye with acrylic paint? That's the million dollar question right, and you will get the answer as well. If you're low on time, then the short answer is yes, we can tie die with acrylic color paint. In this article, I will also explain exactly how to do just that correctly.
So, it would be better if you stick here, and read the entire piece.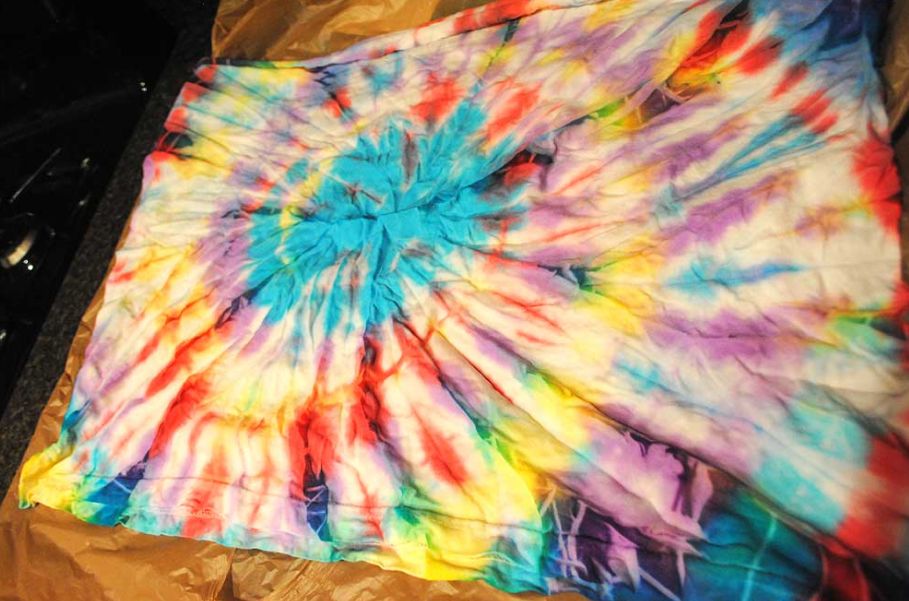 After the coloring process, clothes get unique patterns on them. The process of preventing dye from reaching all over the cloth is known as resist dyeing. It prevents the dye from merging with the fabric. Tie-dye is just dilly-dallying of shades in different ways.
Now the tie dye industry is evolving with time, as it bought more refined patterns on distinct fabrics (apart from cotton) and new shades. It can be done in a household by just following the correct techniques. During the process, bold bright and beautiful acrylic paints are applied to create alluring designs which look cooler on wearing.
---
Can you do tie dye with acrylic paint: Actual answer 
Yes, it is possible to tie-dye most fabrics with acrylic paint.
Especially on simple shirts, the Acrylic paint pattern makes it look attractive. Acrylic shades are thicker sometimes so you can add normal water or glycerin to bring it in the right consistency for the tie-dye method. 
Acrylic shades are a safer means for kids to design their fabrics. You can add acrylic shades and tie dye the fabric anytime. You are not limited to specific colors when it comes to acrylic paint. In fact, you can mix and match them to create new shades.
---
How to tie dye with acrylic paint?
Tie-dyeing the clothes is not a tough procedure. You just have to gather the required materials, appropriate shades and correct procedure to make unique designs.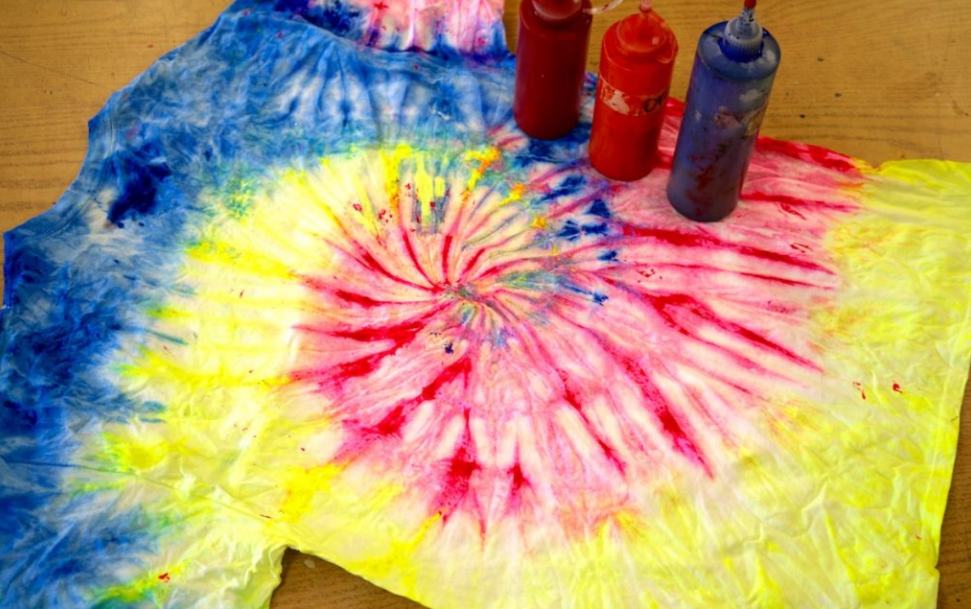 The best thing about tie dyeing is that you don't have to be skilled or professional in this. Materials required to tie-dye with Acrylic colors include:
🛠️ Sprinkling container or spilling container.
🛠️ Few Acrylic shades or colors.
🛠️ Thread or rubber bands.
🛠️ Fabric (shirts, tops or unstitched clothes).
🛠️ Water.
🛠️ Empty buckets.
🛠️ Big size working area.
🛠️ Used papers to secure the surrounds from paint, etc.
required Tools
The first and foremost thing is to select a soft, white and advanced quality fabric. Make sure to avoid using synthetic material.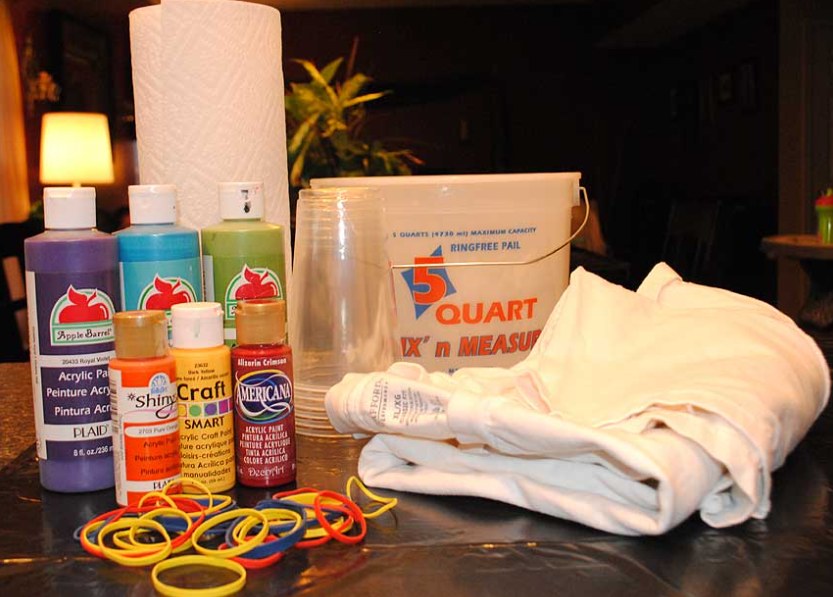 Speaking of which, appropriate tools make the process flexible and simple. It also ensures satisfactory results. Some basic tools required:
🛠️ Silver or disposable spoon.
🛠️ Vinegar or salt.
🛠️ Thick rubber gloves to save hands from stains.
🛠️ Plastic sheets for the dyeing process.
Prepare the Paint and the Material
Before starting the process you should prepare the colors and gather the materials (just in case you don't miss out on any step).
Spread the fabric on the working station and use tweezers to spiral a cloth. Now, tie it with flexible rubber bands from all sides. In a glass, mix five-parts of water into one part of a vegetable or normal glycerin.
Next for the preparation of colors, take empty plastic bottles and pour single color in a single bottle.
Now take a medicine dropper to fill with two tablespoons of water and glycerin mixture to make shades more vibrant and liquidy.
Avoid using excess water because that will dilute colors and absorb fast into the fabric. At last, shake the bottles well so colors don't settle at the bottom.
Put a foil container on the working top then place a cookie rack on it. Now put the swirled fabric on the cookie rack, pour the prepared bottle colors one by one. Make sure that the shades saturate in the fabric but are not completely absorbed.
Then let it dry naturally under sunlight or throw in the dryer to make the process fast (warning: it may stain the dryer). Cut down the rubber band to see the results.
Choosing a design and their respective technique
Tie-dye can be executed with different techniques and designs. Each pattern is created by applying unique methods to deliver attractive outcomes. Some of the amazing designs and their techniques are:
⮞ Steps 1- Properly crumple the shirt or other clothing, then fasten it with rubber bands on all sides.
⮞ Step 2- In a plastic bottle pour acrylic color and water, drop it on a shirt equally.
⮞ Step 3- Remove the rubber bands and let the shirt dry.
⮞ Step 4- Wash it to see clear results.
⮞ Step 1- Fold the fabric or shirt in half.
⮞ Step 2- Draw a straight line in the middle using a ruler and fold the shirt in plates following the line. Tie rubber bands properly on the folds
⮞ Step 3- Pour colors on the divided sections and pull out rubbers.
⮞ Step 4- Dry the fabric before washing it.
⮞ Step 1- Grab the fabric from the middle and wrap it with a rubber band.
⮞ Step 2- Mix acrylic paint and water in a plastic bottle and shake well.
⮞ Step 3- Pour it on the divided sections of the fabric.
⮞ Step 4- Remove all rubber ties and dry the fabric before washing it.
⮞ Step 1- Take a t-shirt and two different acrylic shades mixed with water in a plastic container. Shake well.
⮞ Step 2- Fold the t-shirt in half and swirl it by pinching in the middle.
⮞ Step 3- Tie the fold with rubber bands and pour the color well.
⮞ Step 4- If you want to add another shade, repeat the process.
⮞ Step 5- Dry the shirt then wash it.
⮞ Step 1- Take squeezy bottles to pour different colors and water in each bottle.
⮞ Step 2- Don't overfill the bottle and shake well before using.
⮞ Step 3- Keep a big cardboard underneath the shirt before applying the technique.
⮞ Step 4- Splatter the paint on fabric, dry for fifteen minutes.
⮞ Step 5- Flip the shirt/fabric to repeat the process.
⮞ Step 6- Use the dryer to dry the shirt and wash it to remove stiffness.
---
Bleach tie-dye is an affordable method that gives a unique look to plain dark color shirts or shirts. Bleach fades the darker shades of the fabric and turns it into a design. Here are some things you need in the bleaching process: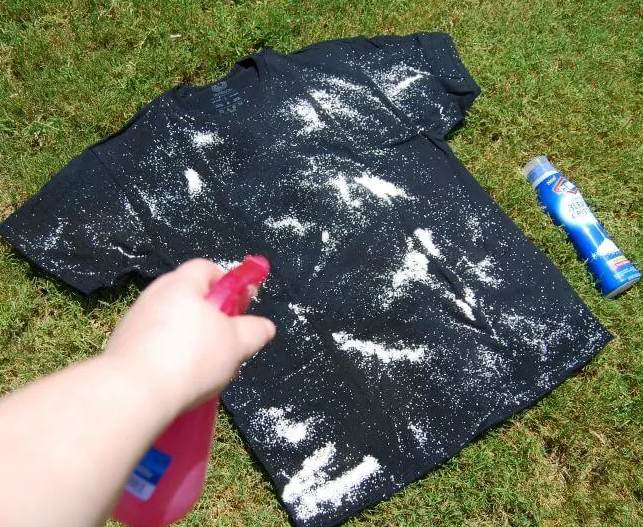 🛠️ Bleach.
🛠️ Black color clothing.
🛠️ Few rubber ties.
🛠️ Squeezing bottle.
🛠️ Gentle washing powder.
🛠️ Bucket.
🛠️ Thick gloves.
🛠️ Mask (if you don't like the smell of the bleach).
Infuse half portion of water to half portion of bleach to form a dyeing solution. Then soak the fabric in a bleaching liquid. Another technique is by transferring the solution to a squeezing container and then splatter it on the selected clothing. This will form a new and unique pattern.
In case you don't have a household bleach, you can opt for the washroom cleanser in squirting bottles with bleaching agent in them. Many people use bowl cleaner on the fabric as a bleaching method.
---
frequently asked questions (FAQS)
Get Your Answers Here
What is the best paint for tie-dye?
✅ Viva pearl pen.
✅ fabric paint.
✅ yarn dye.
✅ Color shot instant fabric colour.
✅ Spray paint.
✅ Liquid dye.
✅ Acrylic paint.
Is it better to tie-dye shirts wet or dry?
It is best to soak your clothing and leave it moist for the tying dying procedure. That's because dyes or paints will saturate easily into the fabric when it is a little damp. It is not compulsory to always leave fabric wet.
Sometimes change in technique and design requires dry fabric. Newly bought fabric must be washed to avoid size shrinking during the dyeing process. You can experience more vibrant results in dry cloth but with light saturation.
Does acrylic paint wash off clothes?
Acrylic shades can be removed flexibly while it is damp. However, you can also try other methods to wash off the fabric. Some of the most successful methods include nail polish remover, dishwashing liquid and isopropyl alcohol.
Usually, acrylic paints are not waterproof, so when you wash a fabric regularly it fades away. However, you need to rub hard with some prescribed solution for mild spots. These colors have a plastic-like texture. So if the spots are too old, you need to peel them off with a knife or sharp tool. 
Rub off the waste from the fabric then wash it well with liquid soap. One of the easiest methods is to drop the isopropyl alcohol directly on the stain. By such means the paint will wash off into the sink immediately. 
What kind of dye can be used for tie-dye?
⮞ Fiber Reactive procion dyes are used to create patterns on hemp, rayon and linens fabrics
⮞ Solar fast dye are used for a smaller project of tye dye
⮞ Spray dyes are chemical-free and kid-friendly dyes. It does not require extra water and provides quick results. It also washes off easily. But, it doesn't work on synthetic fabrics.
Conclusion
Well, acrylic paint tie dye does wonders for the fabric in terms of creating new patterns. It works on all types of clothing easily and quickly. Kids and adults both can tie-dye their clothes at home by merging different techniques and colors. We hope you understood how to tie-dye a fabric through acrylic paint.