We all love to use our creative skills and artistic insight on old clothes as it is one of the best ways to spend quality time during weekends. When the concern is about the artwork on fabric, acrylic paint is perfect for the innovative job. That's why it's key to learn how to soften acrylic paint on fabric.
Acrylic paint offers the brightest form of colors and is popular for its instant drying technology. They are quite affordable and less toxic; hence you can also work with them with pets and kids around. One can also use acrylic paint on any surface due to its oil and wax-free nature.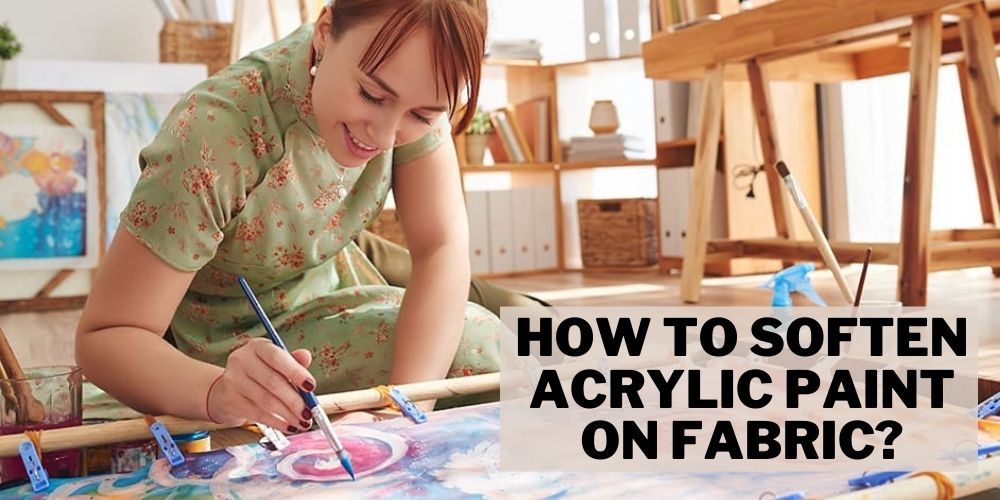 Similar to any other paint, acrylic paint also has pros and cons. As mentioned above, the instant drying nature of acrylic paint can be hazardous if you make any mistake while designing. Moreover, acrylic paint is also prone to cracks and can easily destroy your art session.
Are you geared up to do some interesting artwork on your old T-shirt this weekend? Softening acrylic paint is one of the best solutions to improve the paint's composition and resist cracks post-application. Below we have mentioned some of the best tips and tricks on softening acrylic paint on fabric.
---
How to Soften Acrylic Paint on Fabric?
If you have experience working with acrylic paints in the past, you must be well aware of the fact they dry quickly. Moreover, using acrylic paint without softening on fabric will ensure that your old-sports T-shirt turns into cardboard.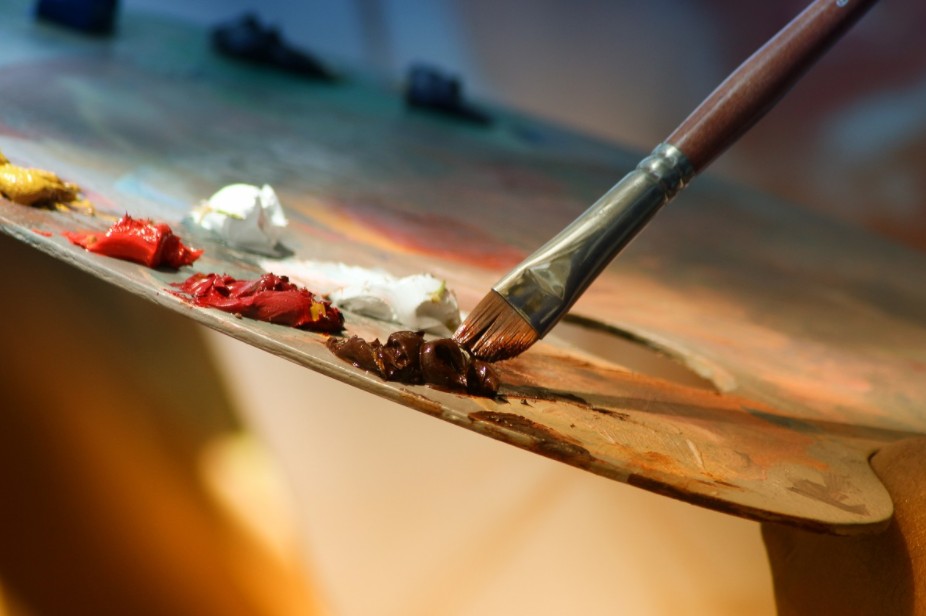 So, it is important to dilute the acrylic paint with an acrylic medium to reduce the thickness of the acrylic paint. The acrylic medium maintains a smooth texture of paint on the fabric. Well, there are multiple ways to soften acrylic paint, but the two most preferred ways of softening acrylic paint on fabric are.
Warm water, 
Acrylic medium, and
Glycerol.
If you're willing to learn the art of how to soften acrylic paint on fabric, then you can try any of the methods. I have explained all the methods below!
---
What are the options for Softening Acrylic Paint on Fabric?
Acrylic paints are water-based; hence you can simply add water to make them thinner. The first and foremost method of softening acrylic paint is using warm water. Take a small amount of acrylic paint in a plastic plate or bowl and slowly add warm water and create a thick mixture.
If you think that it is the cheapest way to soften acrylic paint, you may end up messing it completely. Apart from being easiest, it is also one of the hardest ways of softening acrylic paint. If you have an exceptional chemistry background, the task is easy, while for others, it is risky.
Excessive addition of warm water can ruin it completely, while reduced levels will have zero effect. Well, if you feel that the first option is not your game, using an acrylic medium is a short and sweet way to complete the job without complications. Acrylic mediums incorporate applications of advanced technologies, which ensure that paint doesn't feel hard on fabric after drying completely.
An acrylic medium is used to improve the acrylic paint's consistency and reduce its tendency to dry quickly. All in all, acrylic medium transforms normal acrylic paint to create majestic artwork. When using acrylic medium, you must ensure that the acrylic fabric paint is not older than one year old. It is almost impossible to soften acrylic, which is older than one year or more.
---
How to Soften Acrylic Paint on Fabric Using Acrylic Medium (Step-By-Step Guide)
Acrylic medium is the most suitable method of making acrylic paint consistent. Moreover, to soften acrylic paint with an acrylic medium, you will need the tools mentioned below.
🛠️ Acrylic paint.
🛠️ Acrylic paint medium.
🛠️ Medium-sized paintbrush.
🛠️ Iron.
🛠️ Pieces of white paper.
🛠️ Toothpick.
🛠️ Disposable plastic plate.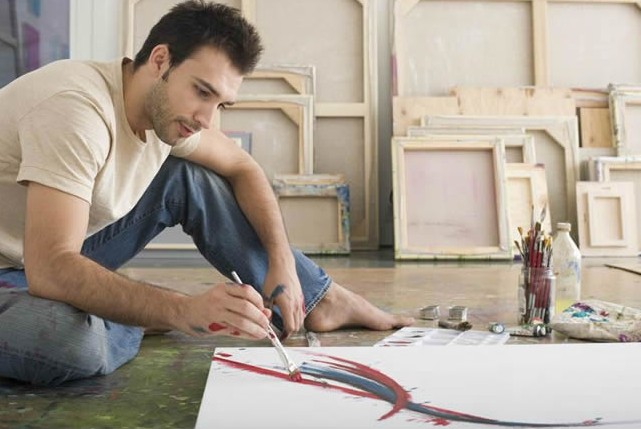 Step 1
Take some acrylic paint on a disposable plastic plate and ensure that you don't touch the plate until the acrylic paint dries completely.
Step 2
Add acrylic paint medium in the center of the acrylic paint puddle on the plate. You have to be careful with the quantity, as adding more or less can make the entire mixture inconsistent. The simple ratio you have to follow while adding textile medium to acrylic paint is 1:2 (One part of acrylic textile medium for two parts of acrylic paint).
Step 3
Once you have added paint medium to the acrylic paint, do not forget to mix both the ingredients completely with the help of a toothpick or stylus.
Step 4
Once you have prepared the mixture, it is the best time to apply it to the fabric. Dip the medium-sized paintbrush in the disposable plastic plate where you have kept the mixture of acrylic paint and textile medium. You can make your favorite designs on the material of choice.

After completing your artwork, you will have to leave the fabric untouched for the next seven days to let the acrylic paint dry completely. Moreover, you will also have to ensure that the fabric is kept away from the heat source as even a small amount of heat source is enough to dissolve the paint from the fabric.

Step 5
Once the fabric is completely dried, you can keep the fabric or T-shirt between two white papers. Apply even heat to the fabric from all sides using iron and remember to set the heat which is best suited for the fabric. It is one of the most important steps of the project as it will ensure that acrylic paint is fully settled on the fabric.
---
Can I Use Fabric Medium To Soften Acrylic Paint On Fabric?
To be clear, the acrylic medium has diversified gel and fabric-based polymers. The fabric medium is the polymer of acrylic paint. Different types of polymers have different applications. For example, some acrylic polymers increase the time taken to dry the fabric, while some make the paint dry harder for better impressions.
There is no doubt that you can use fabric medium to convert acrylic paint into fabric medium, but you will have to be aware of composition. Mix one part of the fabric medium with two parts of acrylic paint for the best results.
---
How To Soften Acrylic Paint On Fabric using Glycerol?
Well, if you don't have an acrylic medium at home, you can also use its substitutes like glycerol which is also a type of acrylic medium. Generally, glycerol is used to manufacture acrylic paint. Hence, you can use it to extend the drying time and increase the paint's viscosity.
You will have to be careful while using glycerol as it can shoot up the viscosity level of the liquid and you might have reversed results. To be safer, dilute glycerol by adding water (one part of glycerol to five parts of water) before adding it to the acrylic paint.
---
Tips For Painting On Fabric With Acrylic Paint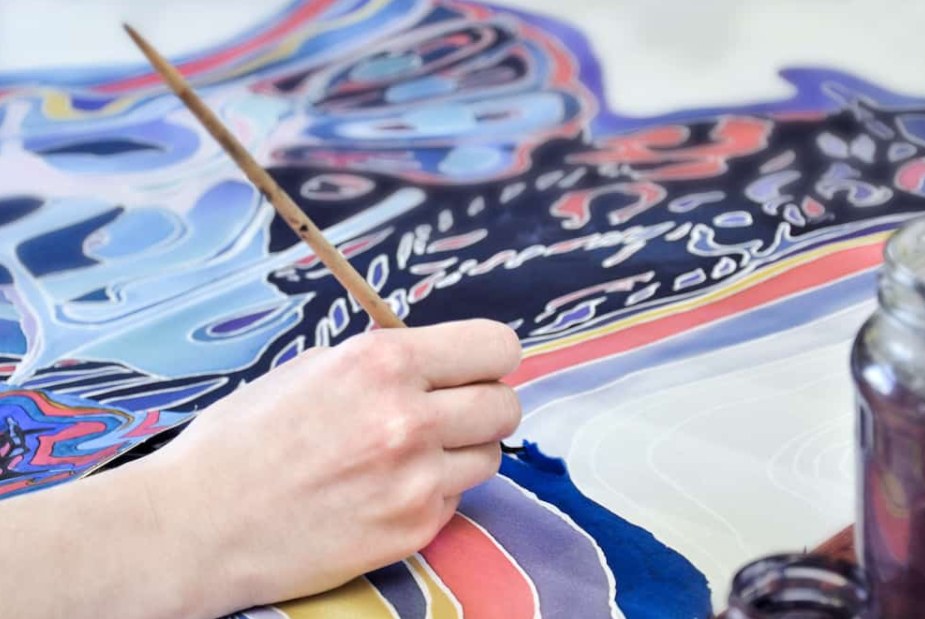 ---
Frequently Asked Questions (FAQs)
Get your answers here
1. Can I Use Vinegar To Turn Acrylic Paint Into Fabric Paint?
No, it would be best if you did not use vinegar to turn acrylic paint into fabric paint because it is acidic in nature. The reaction can be negative and can spoil your day. Is acrylic paint toxic? What you feel, don't worry. It is not toxic, and you can have your kids and pets around the project. 
2. Can I Mix Fabric Paint With Acrylic Paint?
It is good to mix fabric paint with acrylic paint, but you will have to mix it in the right proportions for the best results. The ratio is simple 1:2, one part of fabric paint for two parts of acrylic paint.
3. How To Set Acrylic Paint On Fabric?
Is acrylic paint permanent on the fabric? Yes, it is if you follow the best methods during the preparation. Here are the eight steps you should follow,
1. Let the paint dry on the fabric for seven days.
2. Use iron and white paper to dry the fabric. 
3. Turn the fabric inside out, and heat it completely.
4. You can also keep the fabric in the oven and set the temperature to 250 degrees approx.
---
Sum Up:
Unfortunately, there is no method to soften traditional acrylic paint on fabric. But you can use the tips mentioned above and tricks to learn how to soften acrylic paint on fabric in order to create some glorious artwork. Keep in mind Halloween is not far to arrive; hence let your creativity flow through medium-sized.